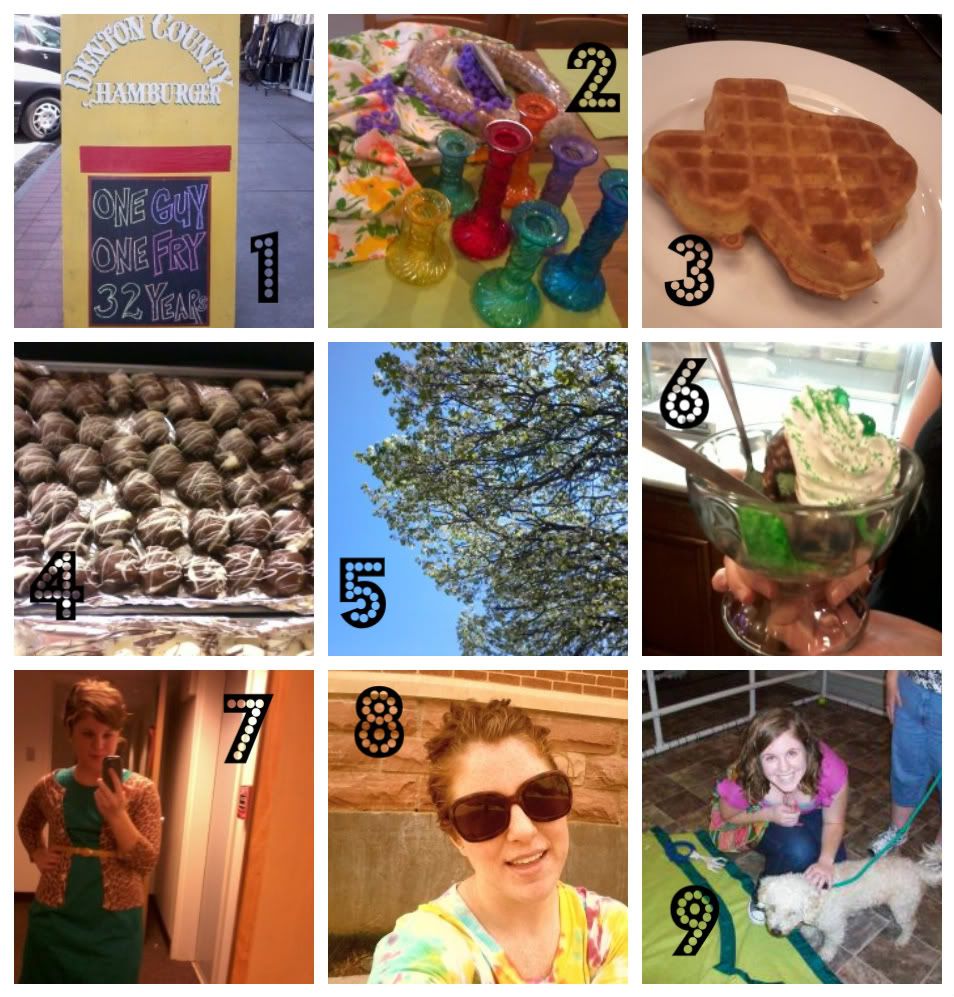 01. denton county hamburger.
my parents and mr. scotty came to visit two weekends ago. twas a joyous time filled with eating, grocery shopping, comic booking, chillaxing, and movie going. we tried out a bunch of new restaurants in denton - fuzzy's, denton county hamburger, j&j's pizza, and of course, beth marie's - which have all become favorites. suko thai still holds a special place in my heart though. although mr. chopsticks might be becoming an appealing alternative.
have you heard that kailin and i went to visit my sister and her husband over spring break already? i shall blogith about is one day. but while we were in pittsburgh we visited the most glorious goodwill. lots of fantastic pieces for the apartment were found.
only in texas. i ate one of these bad boys at my parents hotel. it made me miss the days of hanging out with marissa and the waffle machine in our cafeteria on campus freshman year.
kaelyn, my most favoritist soon to be a real nurse friend who just passed her HESI with a 99.9999999%, came to talk to our tator tots last tuesday in hopes to prepare them for the next two years of studying and working harder than they've ever thought possible. this is also frequently referred to as nursing school. i made some tasty oreo balls for snackage and the night was quite a success. now TWU just needs to get its act together and let us know we've actually gotten to nursing school.
even though it was rainy and 40ish today. i can study outside again. i can stalk weddings in the little chapel. i can bask in the beauty of the gardens right outside the dormsicles. and i can start wearing an extra layer of deodorant.
kailin and i shared a yummy sundae from beth maries. and i love ice cream more than clean laundry. and thats saying a lot.
i work four semi-slow hours at the front desk. i take a noonish shower. i eat whatever i've gots left in my room. i fancyify myself for mass. i sing all of my favorite songs.
08. take that google maps.
google maps told me it would take me 52 minutes to walk to the catholic center last friday. i made it there in 40 minutes and i even took a picture taking break. although i suffered a slight sunburn, my day at the catholic center was well spent. we had a leadership meeting and a small group planning meeting for the upcoming retreat, we went to mass, the knights did stations of the cross and fried up some fish, and open mic night finished the night up. we ate outside and the boys had decorated the trees and stairs with christmas lights. oh and there was like 40 boys and six girls. it was a strange, yet exciting, sight!
he never ceases to amaze me. we adopted him from a shelter next to anthropologie right before christmas this year. he totally has my parents wrapped around his paw. i mean, my dad ran with him in dog race this weekend. which in turn, enlightened me to the idea of hitting the gym myself. i'm proud to say i've been four times in the past week. i would go more but i've only got four sports bras!
over and out people. i shall do this blog updating more often!