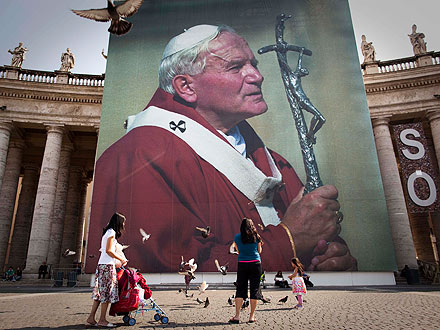 1.5 million attended the beautification ceremony in Rome.
"John Paul II breathes new life into the world's oldest institution, the papacy, in the context of the modern world. He travels to every corner of the globe, preaching the Gospel to millions of people with each appearance. He writes and teaches endlessly, covering every aspect of Catholicism and every issue that faces humanity in the modern world. Whatever name you give him, whether it be Wujek, Karol Wojtyla, Papa, John Paul II, or His Holiness - he is, first and foremost, a man of prayer. His primary concern is doing the will of God in his own life and encouraging others to do the same. He is a sign of hope and a sign of contradiction. He is a priest, prophet, a pope. John Paul II is a man perfectly suited to his age, and yet, a man before his time. He is a living example of God's paradox at this moment in history. He is old, and so weak, and so physically powerless - yet, God continues to use him as a powerful instrument of his love in the world."
Pope John Paul II died when i was in 8th grade and i still remember going to mass the day after he died. during the homily, Father Dat, our priest at the time, started crying and then the whole church was crying. i will never forget that. He was the Pope of my childhood. He was the Pope that really changed how the world viewed the Church. He helped end Communism. He challenged the youth and started World Youth Day. He spoke more than eight languages. He visited every corner of the world. And He taught us that suffering is not anything to be ashamed of by publicly carrying the devastating cross of Parkinson's disease in the last years of his life
more here.