One more month of camp! The kids got funnier and the weather got hotter but have no fear, I continued to sweat it out in style.
I staffed Aggie Awakening 92! Twas an awesome, amazing, fantastic weekend. I loved having my Denton folks, some of Bear Awakening family, and
so many
new friends all together. Party all the time!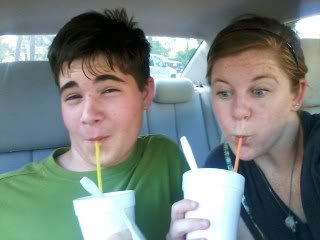 The next two Mondays I went to the Café Catholica -
which is lecture dinner series that combines mass + food + awesome speaker -
events after work! The nights I went I heard Cardinal DiNardo and Father Dat speak and was introduced to the wonderfulness of David Thies.
At the end of the month my parents went to Canada and I was in charge of keeping Scott and myself alive. We baked, ate snow cones, dinned at Culvers, and had a Lord of the Rings marathon!